Ref: FO-ST & FO-SR-04
Fiber-Optic System 20kHz Analog TX
Monitor two Analog Signals at bandwidths from DC to 20 kHz
RFI/EMI validated for EMC at 200 V/m (46 dBV/m) from 500 kHz to 18 GHz and 600V/m (pulsed 5% duty-cycle & 5µs rise-time) 1GHz to 2.5 GHz
Low-Power circuitry for operating >100-hours with 3 alkaline 'AA' batteries
User selectable full-scale input ranges of ±16, ±32, and ±48 VDC or optional – user defined
Compatible with 2 or 4-channel bench-top and 6 to 12-channel 3RU 19″ Euro-rack bench-top or rack-mount Receivers
?
Presentation
The FO-ST is a versatile 2 channel fiber-optic analog signal transmitter capable of measuring electrical signals from sources in high electromagnetic fields or anechoic chambers and transmitting over fiber-optic cables to a FO-SR receiver remotely located in a low field area. The FO-ST is able to transmit analog signals with bandwidths from DC to 20 kHz.

Selectable gain jumpers allow configuration of the transmitter module for full-scale input levels of ±16 V, ±32 V, or ±48 V. Input gain may also be configured to optional fullscale input levels from ±160 mV to ±100 V full-scale.
The FO-ST has shielding and custom input filtering to provide high immunity from electromagnetic interference (EMI), electromagnetic pulse (EMP), or high voltages associated with plasma research. This allows for rigorous electromagnetic compatibility (EMC) testing/engineering. The FO-ST is validated for EMC up to 200 V/m (46 dBV/m) at 500 kHz to 18 GHz and 600 V/m (pulsed 5 % duty-cycle, 5 μs rise-time) 1 GHz to 2.5 GHz.
Specification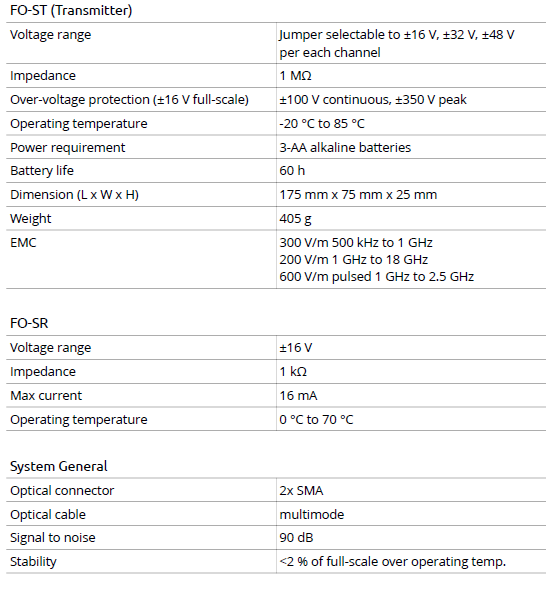 Input channels

2