Ref: LW-2T-50K
6 Axis Wheel Force Transducer - 222 kN - Heavy Duty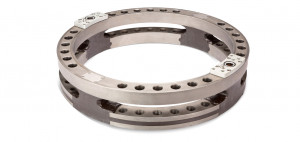 222 kN radial load capacity
111 kN lateral load capacity
68 kN-m moment capacity
Provides 3 moment and 3 force measurements
Measures X & Z accelerations
Monitors combined loads of one or two tires
Adapts to 19.5 inch and larger wheels
Environmentally protected
Temperature compensated
Rugged stainless steel construction
?
Presentation
The LW-2T-50K Wheel Force Transducer (WFT) is capable of measuring all of the wheel forces and moments on Class 8 trucks. It provides independent output signals for vertical, lateral, and longitudinal forces as well as camber, steer and torque moments. The system is completely weatherproof making it ideal for on-road and off-road measurements. It can also be used to monitor and control laboratory tests. One sensor measures the combined loads for a dual wheel set or a single tire.
Installation and Data transmission
The matching Amplifier / Slip Ring package easily mounts onto the transducer. It amplifies and digitizes the transducer signals before they pass through the slip ring.
CT2 Transducer Interface Box:
Performs real-time coordinate transformation and crosstalk compensation
Easy to use Zero, Shunt Calibration, and Bridge Power Off functions
Simultaneous Analog, CAN, & Ethernet signal outputs
Embedded web page enables user to change set-up options, move WFT measurement origin, view transducer static values, create .dbc file
Amplifier and Slip Ring Package:
Internal X & Z accelerometers
High resolution encoder for position & speed measurement
Internal smart chip contains all calibration, zero, & shunt values
Provides signal conditioning & amplification to the transducer strain gage signals
Digitizes Transducer, Encoder, & Accelerometer signals
Supports slip ring
Application

Heavy-duty - Tractor

Number of Axis

6 Axis

Force Capacity [Fx, Fz]

222000 N

Force Capacity [Fy]

111000 N

Moment capacity

68000 Nm

Nonlinearity (% FS)

± 1 %

Hysteresis

1 % FS

Tension d'alimentation

10 Vcc
Hub Size (Pitch Circle Diameter): ≤ 11.2"
Rim Size: ≥ 19.5"
Special Units for high temperature applications
Custom designs with alternative output sensitivities / load capacities
Weatherproof Slip Ring
Encoder / Amplifier (with or without display)